Hadrian's Wall.
April heralds longer days, the beginning of sunnier, warmer times and there's plenty to raise our spirits with this year. Firstly, 2022 is the 1900th anniversary of the start of the construction of Hadrian's Wall.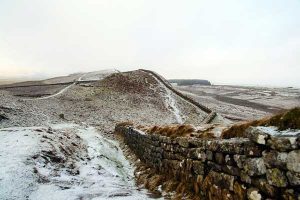 The wall is a UNESCO World Heritage site and The Hadrian's Wall Festival celebrates its 1900th anniversary with events taking place throughout the year. The programme includes many guided walks plus an 88 mile challenge walk, special exhibitions at museums, archaeological excavations restarting at Vindolanda, dance theatre productions and even the brewing of a Roman Beer!
Apartment No. 6 is a short scenic drive from the wall and Alston has its own archaeological gem in the Epiacum Roman Fort site. At 330 metres above sea level, Epiacum is the highest location of a stone-built Roman fort in Britain and was originally built at around the same time as Hadrian's Wall.
Why not plan an autumnal walking holiday around historical sites and catch some of the Hadrian's Wall events. The Pennine Way and Isaac's Tea Trail walking routes are close to Apt. No. 6 and you can also walk up to the Epiacum Roman site from the nearby South Tyne Trail. Visit the Hadrian's Wall Festival website to see a monthly schedule of events.
Secondly, the skies are promisingly blue today, there's a pied wagtail on the roof just now and from our office all you can hear are songbirds which will lead on nicely to post on the birds we've spotted soon.
Thanks to © Stewart Butler-Park for summer photo of Walltown Crags and Toa Heftiba for the winter shot of Hadrian's Wall.
Text © W Laurence.