Bright Days
Looking forward to a long season of walking in Alston and the North Pennines. 2019 has been kind so far making it possible to enjoy the Lake District and the Northumberland National Park with bright winter walking days. This month has been particularly sunny and the far reaching views have been beautiful.
We're looking forward to the evenings getting lighter and the trees greening up. Thank you to Andrew Locking for this superb photo of a typical Cumbrian barn captured near the Ullswater Way.
This quarter we're writing about local walks and focusing on Isaac's Tea Trail in the North Pennines as the first of a three part series. Isaac's Tea Trail is popular with our guests because it is perfect for a short break or to complete in two visits to the North Pennines AONB. It's a 36 mile circular walk following in the footsteps of Isaac Holden a Victorian tea seller and philanthropist. He journeyed on foot delivering tea to customers in the North Pennines and the Allen Valley. On his way he raised money for charitable ventures in support of the local communities.
In 2001 Roger Morris, a man with a passion for the history of the area, created the trail which takes in Allendale, Ninebanks, Alston and Nenthead on its route. The route is way-marked and has distinctive signs. There are four main sections to the trail enabling flexibility depending on the time of year and the terrain.
Allendale to Nenthead (11 miles) (1575 ft ascent). This section follows the East Allen valley upstream before gently climbing the Black Way to the high heather moors and down via a rough moorland track to Nenthead.
From Nenthead to Alston (5.5 miles) (525 ft ascent). Along the fellside this walk includes waterfalls as the river Nent cascades down to Alston.
Alston to Ninebanks (9.5 miles) (1214 ft ascent) This section follows the Pennine Way before crossing the South Tyne river near Kirkhaugh church. It then climbs the valley of the Ayle Burn and up a moorland track into the West Allen Valley.
From Ninebanks to Allendale (9.5 miles) (984 ft ascent) this last part of the trail crosses from the West Allen Valley to the East through a mixture of rough pasture, meadows and woodlands with a riverside walk to the finish point in Allendale centre.
Isaac's Well in Allendale Town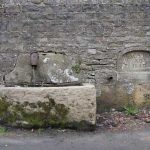 Isaac's Well was made a Grade II listed 'building' in 1969. The wellhead is named after Isaac Holden, who raised the funds for its construction along with other projects of community benefit in Allendale. The well is now a starting and finishing point for the Isaac's Tea trail walk, over the North Pennines between Allendale and Alston.
The Isaac Tea Trail leaflet is available to download as a pdf file here